Embracing the Future of Finance: BESIDE Project & The Recent Crypto Regulation
The world of finance is undeniably evolving at a rapid pace, with digital currencies and blockchain technologies playing increasingly pivotal roles. Recognising the importance of these developments, the European Parliament recently voted to pass the Markets in Crypto-Assets (MiCA) regulation, setting the stage for a unified regulatory framework for crypto assets across EU member countries.
This noteworthy development in European legislation is not only a significant milestone for the crypto industry, but it also underscores the importance and relevance of initiatives like the BESIDE project. BESIDE, a groundbreaking Erasmus+ funded project, is on a mission to train financial sector professionals in the latest technologies and advancements in the industry, with a particular focus on blockchain technology.
The passing of the MiCA regulation reiterates the need for such educational initiatives. As Patrick Hansen, director of EU strategy and policy at stablecoin issuer Circle, stated, the legal clarity provided by MiCA will foster innovation amongst financial institutions that have previously been hesitant due to regulatory uncertainty. This sentiment aligns perfectly with the objectives of the BESIDE project, which aims to equip professionals with the necessary knowledge and skills to adapt to this ever-evolving landscape and comply with EU policies. If you want to go into the details of the new regulation framework you can go here to find a very insightful analysis: https://cointelegraph.com/news/the-european-parliament-adopts-crypto-focused-mica-legislation
The BESIDE project also extends its resources and e-learning platform to Vocational Educat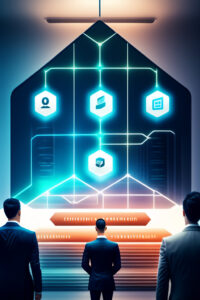 ion and Training (VET) centers to support ongoing professional development. This move aligns with the digitization of the vocational education and training sector, a crucial step in the face of an increasingly digitized financial sector.
The MiCA regulation stands as a testament to the swift pace at which the financial landscape is changing, further highlighting the significance of the BESIDE project. The project's focus on blockchain technology, a key player in the crypto industry, prepares professionals for the imminent digital revolution in the financial sector.
In the face of the new MiCA regulation and the rapid digitization of financial services, the BESIDE project offers a unique opportunity for professionals to stay ahead of the curve. We invite financial professionals to join us in this endeavor and embrace the future of finance.
In conclusion, the BESIDE project and the recent MiCA regulation share a common goal: to foster a robust and thriving digital financial ecosystem in the EU. The project offers a unique platform for financial professionals to enhance their digital capabilities, thereby improving the quality of services they provide to their clients.
To learn more about how the BESIDE project can benefit you or your institution, we invite you to visit our website at https://besideproject.eu/. Together, let's embrace the digital future of the financial sector.